Davor's
PHP Constructor

Download:
Trial version
Want Freeware?


Davor's PHP Editor
At your service!


Humble Web Servant
Try this
excellent product:


TemplateTamer
About Davor's PHP Constructor
Davor's PHP Constructor scored 4.5/5
in review in php|architect August 2004 issue!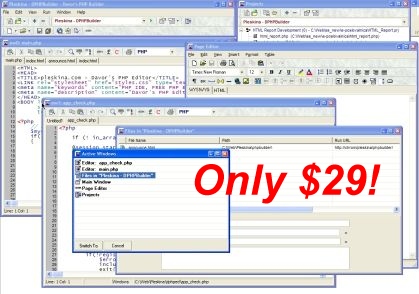 Davor's PHP Constructor is compact and fast Windows IDE (Integrated Development Environment) for PHP development with:

Free-style windowed interface with configurable desktop and multiple edit windows, providing special PHP features
Advanced multipaged editor with Syntax Highlighting for several programming languages (PHP, HTML, CSS, XML, JS, SQL, ASP, Perl, Python, Java + custom highlighting), code completion, code hints and many other advanced options
Project management
PHP syntax checking and script interpretation
Project and Source Explorer
Project and/or script/page Run/Preview
Advanced code analysis (PHP, JS and HTML)
HTML WYSIWYG editor
FTP-based file publishing/synchronization
Code Templates - define your own parts of code (like HTML tags or function/class structures) to pick from a list and insert into script pressing Alt+C
In development: Internal PHP Script Debugger! No need for external debuggers.
In development: MySQL Administration and Interactive SQL Module
Although presumed to be used as PHP development tool (and offering some special PHP features), Davor's PHP Constructor can be used to work on any other language based project since editing features are not limited to PHP only. You can use it to develop any kind of web sites requiring scripts, or build clean HTML pages, still using benefits of project management, syntax highlighting etc.

To get better picture about different IDE elements, please see Screenshots page.

Unlike Davor's PHP Editor, which is convenient for small single-project works and can be used free of charge, this program is shareware. If you want to use it after you try it, you must buy it and register. When you register, you will get:
Free downloads of new versions and upgrades
Support via forums, e-mail and MSN Messenger
Before you decide whether to buy Davor's PHP Constructor, you can download trial version and see if it suits your development needs. Trial version is limited version, you can try it as long as you want but it will not work with its full capabilities.

Depending on user feedback, Davor's PHP Constructor tends to be under continuous development and change, gaining new features and improvements monthly.

For more information, see Documentation.